FLIR E 300 Thermal Camera
| | |
| --- | --- |
| DETECTOR | 320 x 240 PIXEL FPA, MICROBOLOMETRIC DETECTOR |
| SPECTRUM RANGE | From 7.5 to 13 µm |
| THERMAL SENSITIVITY | 0.1° C |
| IMAGE FREQUENCY | 50 Hz |
| FIELD OF VIEW | 23° x 17°/0.3m |
| TEMPERATURE RANGE | da -20°C a +500°C |
| GEOMETRIC RESOLUTION | 1,6 m rad |
| MEASUREMENT PRECISION | ± 2% ± 1°C |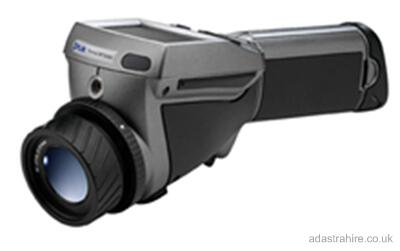 | | |
| --- | --- |
| DETECTOR | 464 X 348 PIXEL FPA, MICROBOLOMETRIC DETECTOR |
| SPECTRUM RANGE | From 7.5 to 13 µm |
| THERMAL SENSITIVITY | 0.1° C |
| IMAGE FREQUENCY | 50 Hz |
| FIELD OF VIEW | 24° x 18°/0.3m |
| TEMPERATURE RANGE. | da -20°C a +1500°C |
| GEOMETRIC RESOLUTION | 1,6 m rad |
| MEASUREMENT PRECISION | ± 2% ± 1°C |
| RANGE SPETTRALE | 7,5 – 14,0 µm |
This instrument is very useful for monitoring the hull, the wetted surface, of fiberglass boats, as well as wooden boats, as it allows determining the moisture content of the analyzed element. The principle on which the instrument is based is that of conductivity. Correct use of this instrument makes it possible to identify the moisture absorbed by the structure, both in fiberglass and wood.
The SKINDER also measures the relative humidity of the air (RH), ambient temperature, and surface temperature of the area to be analyzed.
Campo di misurazione da 0% a 100% U.R.
| | |
| --- | --- |
| MANUFACTURER | CECCHI S.r.l. |
| MODEL | SKINDER |
| SERIAL NUMBER | 976 B2 |
| TYPE OF ELECTRODES | STD. EMBEDDED |
| CALIBRATION CERTIFICATE | YES |
| CALIBRATION PROCEDURE | CP144 |
| USAGE | Moisture meter for fiberglass and wood |
Ultrasonic thickness gauge
This ultrasonic thickness gauge with VLSTC3000 paint measurement function also features "through coating" measurement, which is very useful for conducting measurements on homogeneous materials coated with a layer of paint. Thanks to this special function, the instrument is able to detect the variation in the propagation of ultrasound caused by the surface coating, thus excluding it. As a result, the thickness displayed on the screen will be only that of the homogeneous material underneath. This function is useful when you need to check a coated thickness without damaging the coating.
This function is very useful for fiberglass repairs and for checking the thickness of metal sheets. In the case of a boat made of iron, steel or aluminum, it is useful to perform ultrasonic tests periodically, say every ten years, in order to monitor and know the actual condition of the hull. In fiberglass, instead, it is useful in case of serious impacts to accurately identify the points where to intervene for repair.
Ultrasonic thickness gauge suitable for: Directive 97/23/EC (PED Directive), Directive 2014/68/EC.